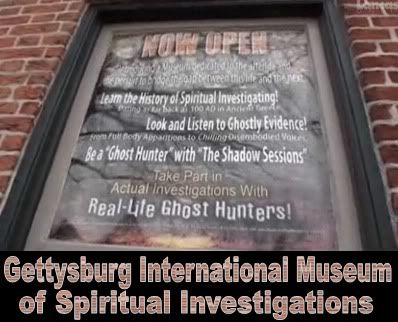 Jonathan Williams knew that if he was going to open a museum dedicated to ghostly apparitions and paranormal phenomena, there would be no better place than what might be the most haunted town in America — Gettysburg.
That's why he, his cousin Chris Williams and friends Brandy Cecil and Christina Barnett have founded the International Museum of Spiritual Investigations.
Located at 231 Baltimore St. in a 185-year-old house that survived the three-day Civil War battle, the museum opened in early March.
"About 10 years ago, Chris and I started coming here annually to research paranormal activity," said Williams, who moved to Gettysburg from New Jersey five years ago. "About a year ago, we decided to create a place to gather in all this evidence, so we decided to start a museum."
Small but growing, the museum features three rooms displaying photos, videos and even ghostly voices.
Read Entire Article Here






Mar 2010
Feb 2010
Jan 2010
Dec 2009
Nov 2009
Oct 2009
Sept 2009
Aug 2009
July 2009
June 2009
May 2009
Apr 2009
Mar 2009
Feb 2009
Jan 2009
Dec 2008
Nov 2008
Oct 2008
Sept 2008
Aug 2008
July 2008
June 2008